Flax dressing shed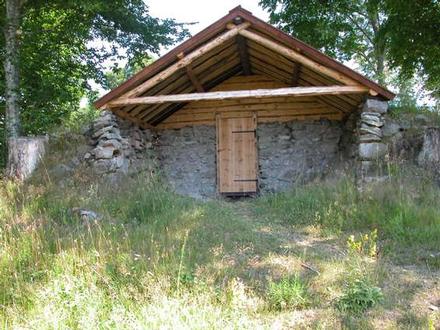 The flax dressing shed is situated a short distance from the other buildings. An open fire was used when working there, and people were very conscious of the risk of setting light to the wooden buildings.
Public art
Älmhults municipality in 2009 bought into various artworks out of Sven Ingvar Johansson Osby, a native of Göteryd. These works of art will be an embellishment here in Linnaeus Råshult and will be placed at the entrance and on the way up to the reception building.
The idea is that art should arouse curiosity, creativity and desire to discover the little "things" in nature. Linnaeus's brother Samuel Linnaeus was a prominent beekeeper in its time and the first person to write a book about beekeeping and bees "excellence". With artwork Hive / portfolio and a number of bees artist wants to highlight his brother Samuel Linnaeus interest in beekeeping and linking the two brothers' interest in animals and nature. Among other things, visitors will get to meet the following animals made by Sven Ingvar Johansson; woodpecker, ants, pine weevils peregrine falcons, bats, ravens and Argus.
 
Why not challenge each other in a race to see who can spot the most animals on the way up to the cultural reserve?
 
Good Luck!