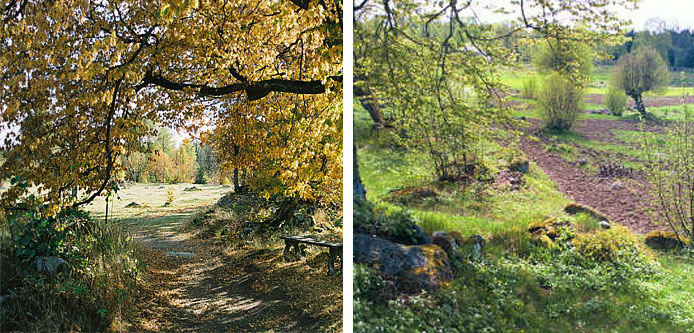 The name Råshult comes from rås, which means a strip of marsh or a valley, and the suffix hult, which means a small wood or clump of trees. Place names ending in -hult are often from the medieval period.

What you can and cannot do as a visitor
Visitors can walk freely along the paths and experience what an 18th century landscape looks like, and how it functions and develops.
You must keep off seeded arable land, however, and you must not walk on unmown meadows, dig up or pick any plants and fungi, trap or catch insects and other animals, light fires, pitch tents or park a caravan or motorhome.
We have been working methodically for the past decade to recreate the 18th century landscape at Råshult, and we expect to complete the task in about 2010. The managers, Lena and Michael Michaelsson, are responsible for maintaining the reserve and for the work involved in recreating the landscape, based on maintenance plans drawn up in consultation between the County Administrative Board, the managers and the Stiftelsen Linnés Råshult foundation, which owns the land.
UNESCO´s World Heritage List
The Rise of Systematic Biology
An International Initiative in the Time of Linnaeus
A Tentative World Heritage Site
The Rise of Systematic Biology is a proposed serial cultural landscape nomination of twelve sites in eight countries.
The properties concerned bear witness to the strong development of systematic biology by the Swedish scientist Carl Linaeus (1707-1778) and his international network. The authenticity of the heritage they represent resides in populations of organisms remaining from early studies in the development of this science.
The Rise of Systematic Biology is of outstanding value under criterion VI of the World Heritage Committee, in that it is "directly or tangibly associated whit events or living traditions, whit ideas, or whit beliefs, whit artistic and literary works of outstanding universal significance". As a scientific heritage, the component sites are associated whit the development of a scientific idea of great importance: the foundation of systematic biology.
Properties tentatively included are:
Sweden   Råshult Curate´s Residence, Älmhult
                The Linnaeus Garden and Museum, Uppsala
                Linnaeu´s Hammarby, Uppsala
                Herbatione´s Upsalienses, Uppsala
Australia Kamay Botany Bay National Park, Sydney
France    Jardin des plantes, Paris
Japan      Dejima, Nagasaki
                Fuji-Hakone-Izu National Park, Kanagawa
The Netherlands Hortus Botanicus Leiden, Leiden
South Africa Table Mountain National Park, Cape Town
United Kingdom Chelsea Physic Garden, London
USA Bartram´s Garden, Philadelphia
The Science of Systematic Biology
Systematic biology is the study of biological diversity and its origins. It includes the collection, naming, classification and description of organisms, as well as a reconstruction of their evolutionary history.
Systematic biolgy is a fundamental science that is needed both for ecological and evolutionary research and for applied sciences such as agriculture, horticulture and pharmacognosy. The need for work in this field is greater now than ever befor. Scientists estimate that 5-50 million species have yet to be named and described, at a time wen rates of extinction are rapidly increasing.
The modern science of systematic biology has its foundation in the works of Carl Linnaeus, who managed to achieve strong development of this science and transform it from a marginal parts of medicine into a discipline of its own.
This transformation was brought about by observations of a large number of plants and animals from different regions of the world, gathered by Linnaeus himself and by scientists in his international network.
Extant populations of organisms in places where scientific specimens were once collected and studied are part of the scientific heritage of systematic biology, as are buildings and histotical gardens preserved from the time of Linnaeus.